Unless you haven't left your house since the pandemic, you couldn't ignore but notice this quirky OOH campaign by Square Yards making rounds, and they might pull off what Zomato did years ago!
The real estate platform unveiled its town side brand awareness campaign to Delhi-NCR recently. The campaign aims at enhancing the brand's overall reach and creating targeted demographics.
The unique campaign with a vibrant yellow backdrop has been positioned in prime localities of targeted cities to garner responses with provocative phrases, like 'Can we ask your wife out on a date?', 'Threesome on your bucket list?', 'Theka kitni door hai?' and 'Size does matter" in the overall home buying journey.
The town-wide OOH campaign adopted a guerrilla marketing approach to drive customers. Over 400 billboards are placed in Delhi-NCR regions to evoke maximum consumer response.
While not many marketers would go onboard with involving undertone sexual tensions to promote their brand that too through billboard advertising, Square Yards is undoubtedly making the heads turn with their new campaign. It reminded people of a similar campaign that Zomato ran years ago.
Tapping into the darkest emotions of humans, these Square Yards billboards will trigger your dirty mind.
Although it sounds weird! We wouldn't say having a threesome on your bucket list never crossed your mind. But this ad raises the idea of "moving into a bigger home." So, if you have been postponing the idea of buying a new home, Square Yards offers free interiors, property management loans when you buy a home through them.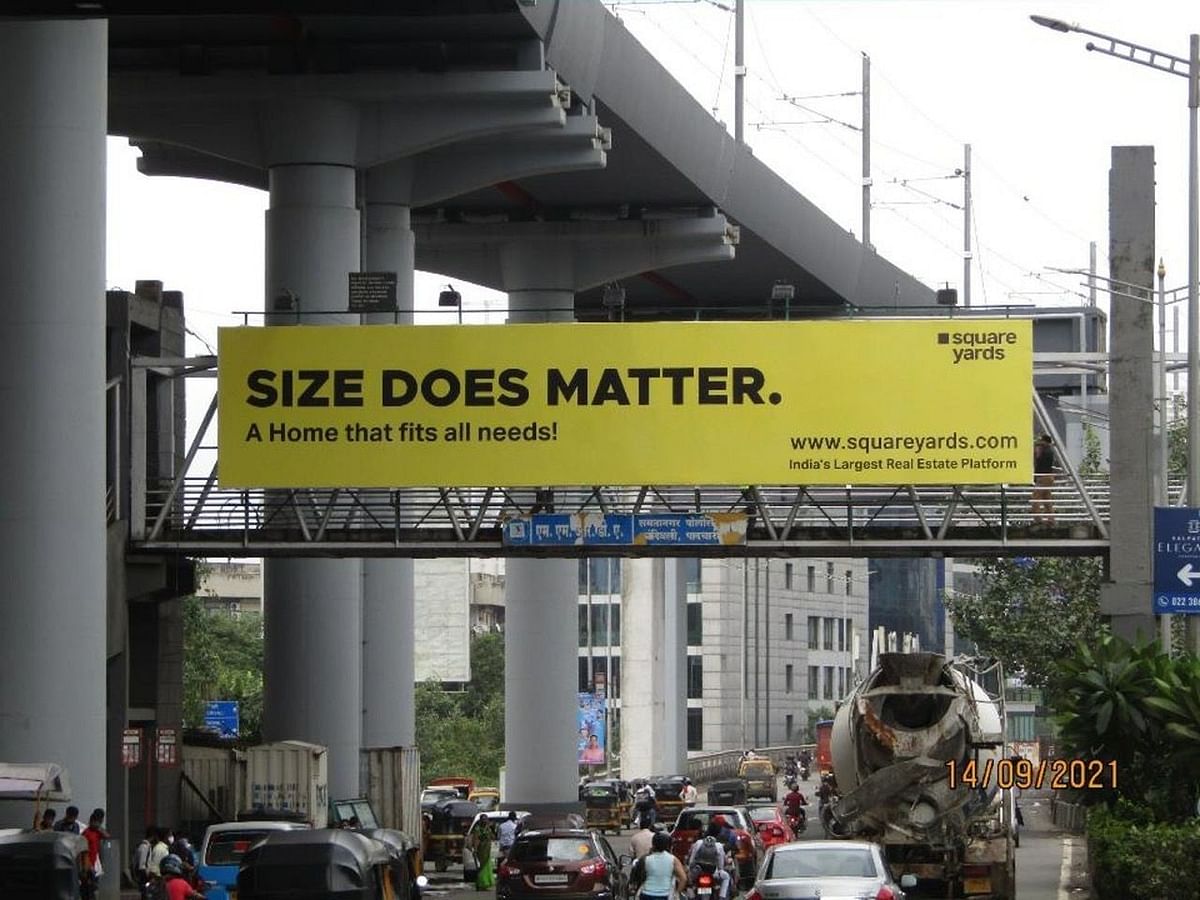 One can hardly focus on the message that Square Yards meant to convey with this unusual text.
These days, the idea of "sex sells" is on the rise. It's a hotly debated topic, but advertising agencies involve the concept of promoting brands using this non-traditional strategy. It is being used to advertise almost everything: clothes, products, cars, alcohol. We all have seen a men's perfume ad: an acted-out scene that gets as dramatic as it could.
A man wears perfume, and suddenly, the most beautiful woman would magically fall in love with the person and decide to accompany the man. It usually works like that or the other way around.
This is misleading but increases consumer consumption. But sometimes, it backfires for businesses. A recent example is when Zomato forgot how their rendition of MC (Mac 'n' Cheese) and BC (Butter Chicken) was taken to be offensive by many.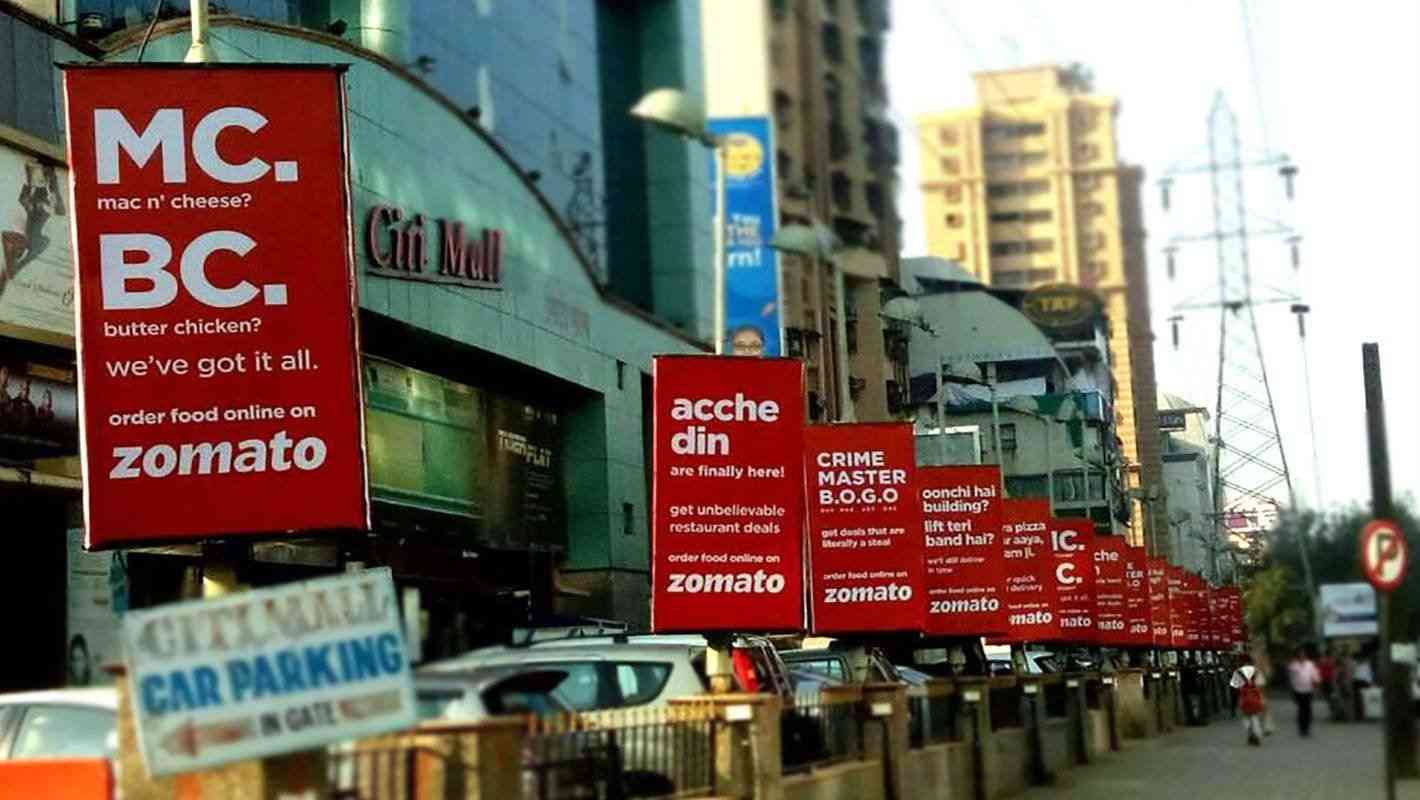 Zomato has been killing it with their advertisement game, but as creative and witty it could get, the pun intended in this hoarding was taken to be offensive. Indeed there is a line that need not be crossed. Wie the creatives received a positive response, social media was divided in opinions and condemned the ad. Responding to the comments, Zomato's co-founder Pankaj Chaddah tweeted, apologizing and promising to take the hoarding down immediately.
Brands and advertising agencies unanimously agree that the creativity in question can tarnish the goodwill and a brand's image if it is not taken in the correct dialect.
Similarly, Square Yards went ahead with the campaign, and the whole issue is attracting positive reviews. It's different from Zomato.
Here are some of Square Yard's other creative hoardings.
Meanwhile, this cheeky sense of taking on the subject of asking your wife out. It is interesting. It is something you read and can't help but smile at. There is no explicit mention or misinterpretation of the context, and it seems to go with the idea well.
The campaign followed other references like Theka Kitni Door Hai? A home that fulfills all requirements!.
With other competitors quickly rising, brands like Zomato, and Square Yards have begun following the quirky route to stay relevant. This isn't the first time any brand has managed to use scandalized subjects to leverage sales.
Another sales-increasing strategy is to call out your rival brands. A similar example was seen when The design patent war between the two technology giants iPhone and Samsung, broke out.
Apple took over the market with the launch of its iPhone. While Apple continued to dominate the market, competitors like Samsung emerged as formidable competitors promoting their distinct features that the iPhone missed.
The timeless advertising war became the most popular, leading to endless court battles.
No matter who emerges a winner in such battles, it is essential for brands to have an insight into the possible outcomes of their campaigns.
Dipankar Sanyal, CEO, Platinum Outdoor and MRP, says, "The Square Yards campaign checks all the boxes for a great outdoor campaign, it has been very exciting for our teams to plan and execute this mega campaign. The campaign has already done wonders for the brand."